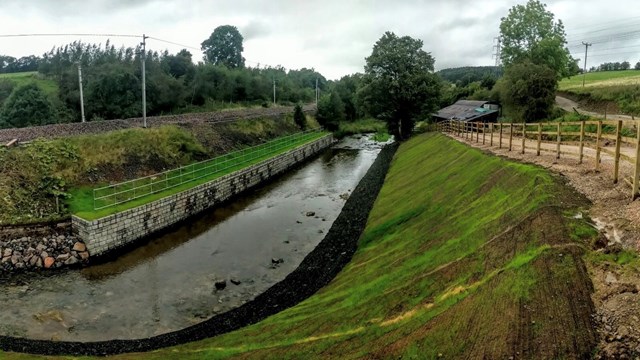 Journeys on Europe's busiest mixed-use passenger and freight railway line have been protected from river erosion in Cumbria. More than half a million pounds has been invested as part of the Great North Rail Project to strengthen the banks of the River Leith which borders the West Coast main line near Thrimby.
The £550,000 project has seen the river's retaining wall replaced to prevent erosion which could risk damage to the 40-metre railway embankment above it. Network Rail engineers have built a modern and stronger retaining wall from pre-cast concrete to protect the railway for years to come.
The new wall and river banks can now better absorb the power of the river with 'rock armour', reinforced matting and rock protection bags now in position. Work took place in a wildlife conservation area and site of special scientific interest so was carefully planned by Network Rail's ecologists.
Jack Withers, Network Rail engineer said:
"Our £550,000 Great North Rail Project investment at Thrimby will keep passengers on the West Coast main line through Cumbria moving safely for many years to come.
"Working closely with Natural England and Eden Borough Council, we've built a new wall to protect the railway embankment from erosion. This upgrade forms part of our ongoing programme to put passengers first and provide a safe, reliable railway."
To build the new retaining wall a dam was used to divert river water to create a dry working area.
In total, 170 precast concrete blocks and 40 cubic metres of concrete was used to complete the retaining wall, along with excavating 900 tonnes of spoil to strengthen the opposite river bank.
There was no disruption to train services while the work took place.